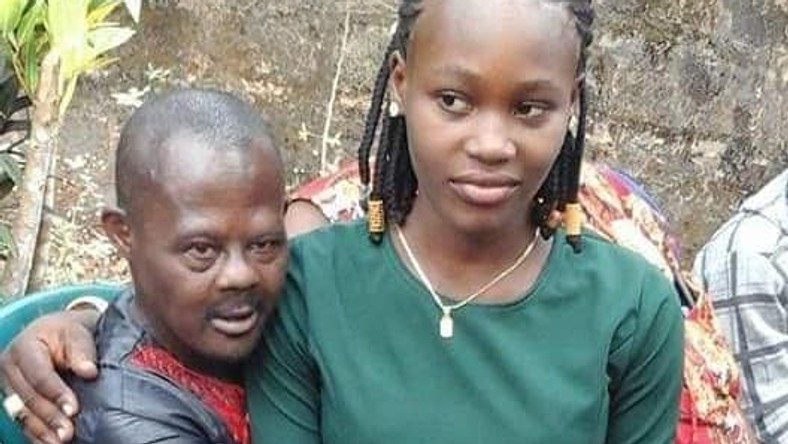 Just last week i heard some News reports all over social media which claimed a 15 year old was forced to marry a 56 year old man in Anambra state and a #RetrieveChinwe campaign has started across Nigerian social media to retrieve the 15-year-old away from her would be husband. So i took to my self to get the full gist for you guys.
15-year-old Chinwe sitting on Izuchukwu Igwilo's laps on their infamous introduction ceremony lst week. On Wednesday, January 30, 2019. According to a report i saw on Pulse.ng they reported the matter of a child marriage that supposedly took place in Ozubulu, Anambra State, between a man she claims to be 56-year-old Izuchukwu Igwilo of the popular and wealthy Igwilo family of Anambra State to a 16-year-old girl (now reported to actually be 15).*The initial report*
The news was broken on Facebook by Nigerian entrepreneur, Vivian Queenstine Diora, who went on a rant and revealed that Izuchukwu, the groom suffers from mental illness and alcohol addiction.
we all know that The Child's Rights Act specifies the minimum age of for marriage to be 18. However, the madness of the Nigerian legal system and its history of contradicting itself means the Matrimonial Causes Act and Marriage Act specify different ages from the one provided by the Child's Rights Act.
Prince Gwamnishu Emefiele Harrison Immediately after the news dropped, Awka, Anambra State-based Nigerian Lawyer and human rights activist, Prince Gwamnishu Emefiele Harrison has been active, in trying to get the girl – since identified as Chinwe – away from the situation she has been forced into.
Any ways Around 5 pm on February 1, 2019, with the help of Efficient Grace Ume and Ajuebor Favour,Harrison posted the approved petition by the Anambra State Police Command to rescue Chinwe.
By this point, he had met Chinwe's parents and he claims Chinwe's mother said that Chinwe was of marriageable age because she (Chinwe's mother) got married at 13. Harrison, however, informed them of the wrongness and consequences of their actions.
What do you guys think? Is it right for them to take his bride away Or Otherwise. Leave Us a comment Below. Thank You